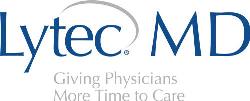 Lytec MD EMR
The Lytec MD EMR solution provides a host of innovative tools to improve both office and clinical efficiency, while helping to improve quality of care. Lytec MD EMR allows practices to replace their paper charts with a comprehensive feature set, which is coupled with a friendly and intuitive interface and built-in security. This results in an EHR system that is powerful enough for any office, yet easy-to-learn and easy-to-use.
"I am in no way a guru; Practice Partner is
just straightforward and easy to build on."
- Mlchael E. Cohen, M. D.
Designed by physicians for physicians – and refined by a decade of feedback from active users across the U.S. – Lytec MD EMR has been meticulously designed to emulate all aspects of the paper-based chart, as well as the normal work patterns of physicians.
And unlike other EHR systems, the only thing you need to do to get a complete chart is enter a progress note (which can be entered by dictation, keyboard, pen-based system or voice recognition). The result: a more complete, up-to-date chart with a lot less work. Lytec MD EMR Release 9.1 is certified and meets CCHIT ambulatory EHR criteria for 2006.