---
---
Practice Management System
The Lytec® practice management (PM) system from McKesson offers the stability that thousands of users trust to run their practices and get their bills paid — only now Lytec is better. With 2010, Lytec debuts all-new technology that makes the application fast and easy-to-use, so office staff can accomplish more in less time. From scheduling to billing to revenue management, Lytec has your practice covered.
Introducing Ribbon Technology
The Lytec 2010 user interface doesn't just look good. It offers a user experience that is second to none. The ribbon technology (introduced with Microsoft® Office 2007) uses command and tab bars to help users easily navigate the system. Related commands are grouped closely together, and frequently used commands are displayed in a customizable quick access toolbar.
The application also makes use of keyboard-centric controls that yield a virtually mouse-free operation for users who prefer to type instead of click. Users also have the option to change the look
Benefits:
• Improves productivity of the scheduling and billing staff
• Simplifies patient accounting
• Speeds insurance billing and improves reimbursement
• Improves collections and reduces accounts receivable
• Tracks practice performance through multiple reports
• Reduces administrative burden for physicians so they can focus on patient care
of Lytec on the fly by applying one of 12 custom "skins" that change the appearance of the application background, windows, title bars and labels.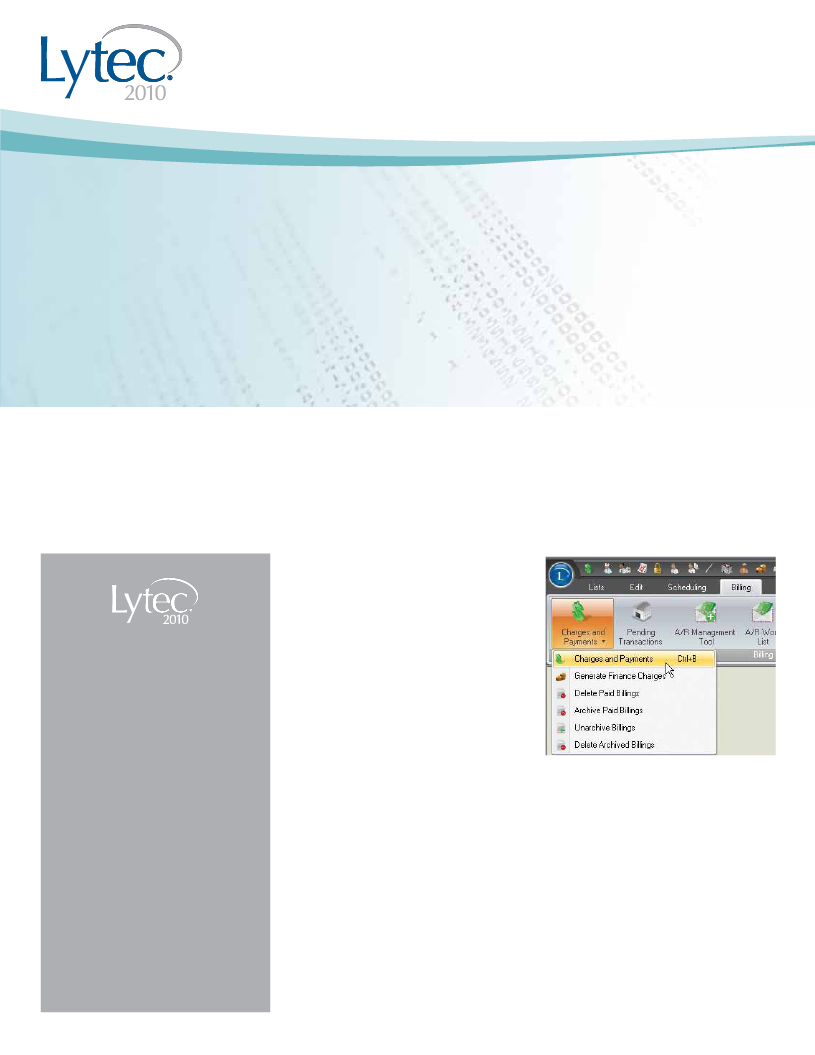 Scheduling
Using the Lytec appointment scheduler, a coordinator can view appointments in a number of ways. Thanks to the flexibility of the system, a coordinator is able to quickly find the best appointment to meet both the patient's and the practice's needs.
Billing
Claims are generated using customizable rules-based grids that allow your practice to easily address different carrier filing requirements. The flexibility of the grid system enables you to enter limitless claim submission scenarios, and it gives your practice the flexibility it needs to make changes to address future payor changes and government mandates, including ANSI 5010.
Revenue Management
The Revenue Management feature in Lytec 2010 enables you to check for errors with pre-claim editing and ANSI validation before you submit your claims for payment. Revenue Management also checks for insurance eligibility before a service is performed. Finally, Revenue Management translates and displays the 835 electronic remittance advice (ERA) in an intuitive window that allows the biller to review the payment information, make changes if necessary, and post (or not post) each individual payment and adjustment.
Seamless Practice Management Workflow
From the time you schedule a patient to the time you get paid for the services you provide, Lytec 2010 helps you efficiently manage your practice workflow.
Copyright © 2009 McKesson Corporation and/or one of its subsidiaries. All rights reserved. Lytec is a registered trademark of McKesson Information Solutions, LLC. All other product or company names mentioned maybe trademarks, service marks or registered trademarks of their respective companies.
Accelerate your practice with Lytec 2010 and move up to your EHR — Lytec MD. Fast.
Physician Practice Solutions
1145 Sanctuary Parkway, Suite 200
Alpharetta, Georgia 30009